2020
Wolfcon
Photo ops, panels, signing sessions and meet & greets with your favourite Teen Wolf actors
2020
Wolfcon
Photo ops, panels, signing sessions and meet & greets with your favourite Teen Wolf actors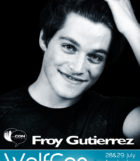 WOLFCON NEWS We are very happy to announce Froy Gutierrez as our second guest for Wolfcon IV. In Teen Wolf he played the part of Nolan in the last season of Teen Wolf and he had such a great time last year that it wasn't hard to convince him to come back. He's really looking forward to meet all of Continue Reading
WolfCON
Wolfcon is a convention for fans of the TV series Teen Wolf.
There will be several activities during this event where you can take part in, with the actors who are present.
Below you can find a brief overview of the main activities.
You can find more information and prices separately for each activity.
Panels
The panels always take place in the main hall of the convention area.
The space is divided into several zones and your pass determines your zone and your seat.
The actors will be in different combinations on stage to talk with the audience.
The audience will also get the opportunity to ask questions to the actors.
The panels are included in your pass so you won't have to buy a ticket separately to attend them.
Autograph ops / S

igning session
The signing sessions are perfect for a face to face chat with the actors of your favourite TV series and you'll even have the possibility to give them a gift, if you would like to.
And of course they sit there to sign something for you.
Remember that they are only allowed to sign official products of the series,  The Con Factory or WolfCON (these are also for sale at the convention).
Once an actor has been announced, prices of autograph ops of this actor will be listed here. Prices will vary depending on the actor.
Photo ops /photo shoot
Here you can have your picture taken with your favourite actor by one of our convention photographers in a professional studio.
The pictures that are made will be printed at the convention so you can take them straight home and show them to everyone.
Pick a Pack
Pick your pack.
Meeting Rooms
In the meeting rooms you can chat with your favourite actor in an intimate setting. In these meeting rooms up to 20 fans are allowed, so you are with a small group and everyone has plenty of time to get to know their favourite actor better.

Exclusive Meeting Rooms (exclusive Con factory activiteit)
In an exclusive meeting room, you'll have even more privacy to talk with your favourite actor
Mystery en surprise activities
In a Mystery Meet you have no idea yet what you will be doing but these are special and limited.
Surprise Ops you do not know with who you will be doing the activity, that is a surprise.
One of our Mystery activities we had planned for Wolfcon 1 was for example a moordmystery escape hunt, it can be anything, zas long as the actors are okay with it.
(For example a meetingroom with more actors, a workshop, Singstar/karoake with acteurs, escaperoom, pubquiz, murder mystery game, selfies lounge, music sessie, movie watching with, etc
Raffles
Raffles are special lotteries for all convention visitors. You can only join the raffles if you have a pass and you can win great prizes. You can buy raffle tickets during the convention and the winners will of course be announced during the convention. It will definitely be worth it to participate.
Evening entertainment op (surprise exclusive Con Factory activiteit)
This is the highlight of our conventions and in no other European convention you can experience this. While enjoying a snack and a drink you are going to prepare yourself for a spectacular evening. For now we will keep a secret what this is all about, but during the three-hour event your dreams will come true and you will get to know the actors better than anyone else. If you are someone who likes a challenge and if you have always wanted to play a role in your favourite series, you don't want to miss this. We can guarantee an unique experience you will not experience anywhere else. This very exclusive event is available only to a select number of people and you can only buy tickets for it if you already have a pass for our convention.
Evening Activity (cocktail party)
This is a big meet & greet where you can talk with the actors who are attending while having some snacks and a drink and often we play games.
More activities to come.
*These activities can (partly) be modified or canceled for reasons beyond our control.